Security documents
Protecting citizens against identity theft, counterfeiting and fraud.
Providing governments with the most secure technologies. For more than 20 years, major organizations have entrusted our innovative solutions with the protection of citizens' identity documents around the world.
Reasons to invest in security features for official documents
Protecting official documents
Safeguarding the integrity and reliability of official documents is vital to maintaining trust between citizens, businesses and their governments. It also prevents illicit markets from developing.
Official document protection is essential to fighting identity theft and protecting citizens around the world.
Making verification accessible
In today's world, secure physical codes can be checked on the spot with just a smartphone and a dedicated application. We offer effective solutions that make document protection accessible.
Protecting confidential information
Document security solutions make it possible to protect confidential and sensitive information such as personal data, financial information, trade secrets and intellectual property.
The design and development of solutions for security documents.
Developed by Advanced Track & Trace®, the SEALgn@ture® banknote technology feature comprises a non-visible authentication code hidden within the background of a banknote. Enabling quick and automatic verification, the innovative technology has been integrated into several banknote ranges with great success, providing enhanced security without changing existing production processes. In partnership with the Banque de France – France's central bank –, Advanced Track & Trace has optimized industrial integration and quality assurance for several high-volume banknote deployments.
The SEALgn@ture® code can be checked easily with a dedicated application on the spot or via specific checkpoints at central banks. Forgery-proof and resistant to wear, this multi-factor authentication solution requires no additional consumables.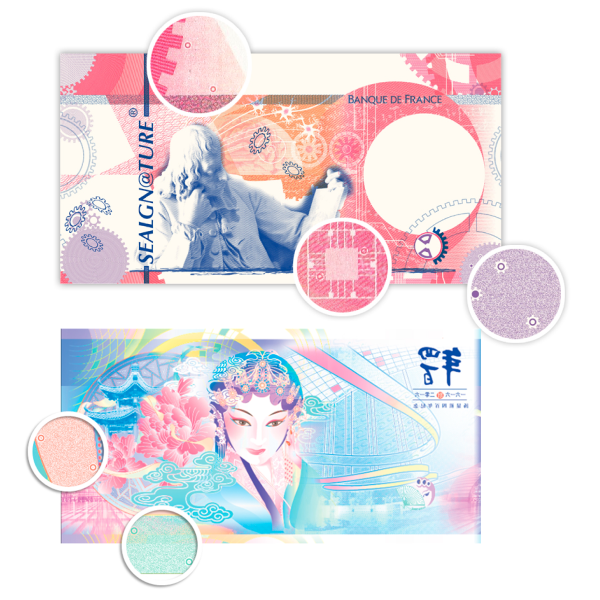 Trace Tax® is a modular suite that can be used for tax stamp management, the generation of unique identifiers, volume-control management, the creation of parent-child relationships in the supply chain, supply chain tracking and the analysis of on-the-spot checks.
The system makes it possible to maximize tax revenues, fight fraud, boost the local economy and protect excisable products. Trace Tax® suite is flexible and can be used to manage various different systems. It is easy to integrate and operate, which can be done by a local partner. You can self-finance deployment using a build–operate–transfer (BOT) business delivery model. The Trace Tax® suite is compliant with the WHO FCTC Protocol and the EU Directive on tobacco traceability.
The SEALCrypt® code by Advanced Track & Trace is a robust and cost-efficient technology used to contain sensitive data and guarantee the integrity of identity documents. The key to securely storing large volumes of information and preventing document fraud, SEALCrypt® can be scanned on the spot with any smartphone – without Internet access or a remote database. The code is generated at the moment a document is issued and can be incorporated into any printing process. SEALCrypt® is used in many different countries and is compliant with the requirements of the General Data Protection Regulation (GDPR). Patented by Advanced Track & Trace, SEALCrypt® technology is simple to print and easy to operate, offering a very high level of security at a competitive cost.

Ensuring document integrity with ease and total security
The SEALCrypt® code is a patented technology from Advanced Track & Trace. A secure data container, it is easy to print and operate.
SEALCrypt® technology can be used with soft infrastructure, with or without databases, all the while remaining safe and secure.
SEALCrypt® has a wide range of applications and maintains a very high level of security across the board. Its uses range from integrity checks and visual and biometric recognition to securing vehicle registration plates, car stickers, insurance certificates and professional ID cards.
Easy to set up (on SaaS or local software) and operate (using a smartphone), SEALCrypt®'s flexibility gives it a wide array of avenues for application.